LUFA 130901 Released!
Posted on September 1st, 2013
After a two week soak period with no complaints, I've packaged up a new LUFA release as scheduled. The downloads are now live – but the Atmel Studio extension update on the gallery has to go through review first before it will be public, which I expect will take a few days. Not much to report on since most of the relevant information was posted in the beta announcement – other than some additional documentation tweaks (Spelling: I am not good at it). Hopefully I haven't forgotten anything in the release packages; if you experience any problems, let me know.
Download the new 130901 release
Read the online documentation
Complain about me on the support list
A big thank you as always to all the contributors, no matter how large or small. The LUFA community is what makes the project successful, and I'm grateful to everyone that tries out my work.
Am I excited to get this out? Yes. But I'm also full of half a battalions' worth of homemade pizza from last night, so I'm writing this while wishing for death. Lactose intolerance and pizza are a bad combination regardless of the absurd levels of deliciousness. Go forth and enjoy in the meantime.
Also uploaded is the source code to the Atmel Studio integration blob, so you can choose to build it from the source – not that I expect anyone to, given how painful it is to assemble all the prerequisites to make a working VSIX. I'm a C# novice and even more novice at Visual Studio extension development, so the code isn't very pretty.
Coming in the next few days is another update to my Data Size Viewer extension, following the new release a few weeks ago to fix a crash when C++ projects were used. This new version adds configurable colors to visually distinguish between text and data segment symbols, as well as symbols that aren't available in source form (such as symbols pulled from precompiled libraries). That update, too, should be live in a few days once it is approved to the Atmel Gallery.
In unrelated news, last week our department finally restructured our desk layout and cleaned up the place. While it was heartbreaking to throw out what must have been a year's salary worth of old parts and boards, I suppose at some point things really are just junk. No pictures of the new layout, but trust me, it's freaking awesome. We have an actual lab area now!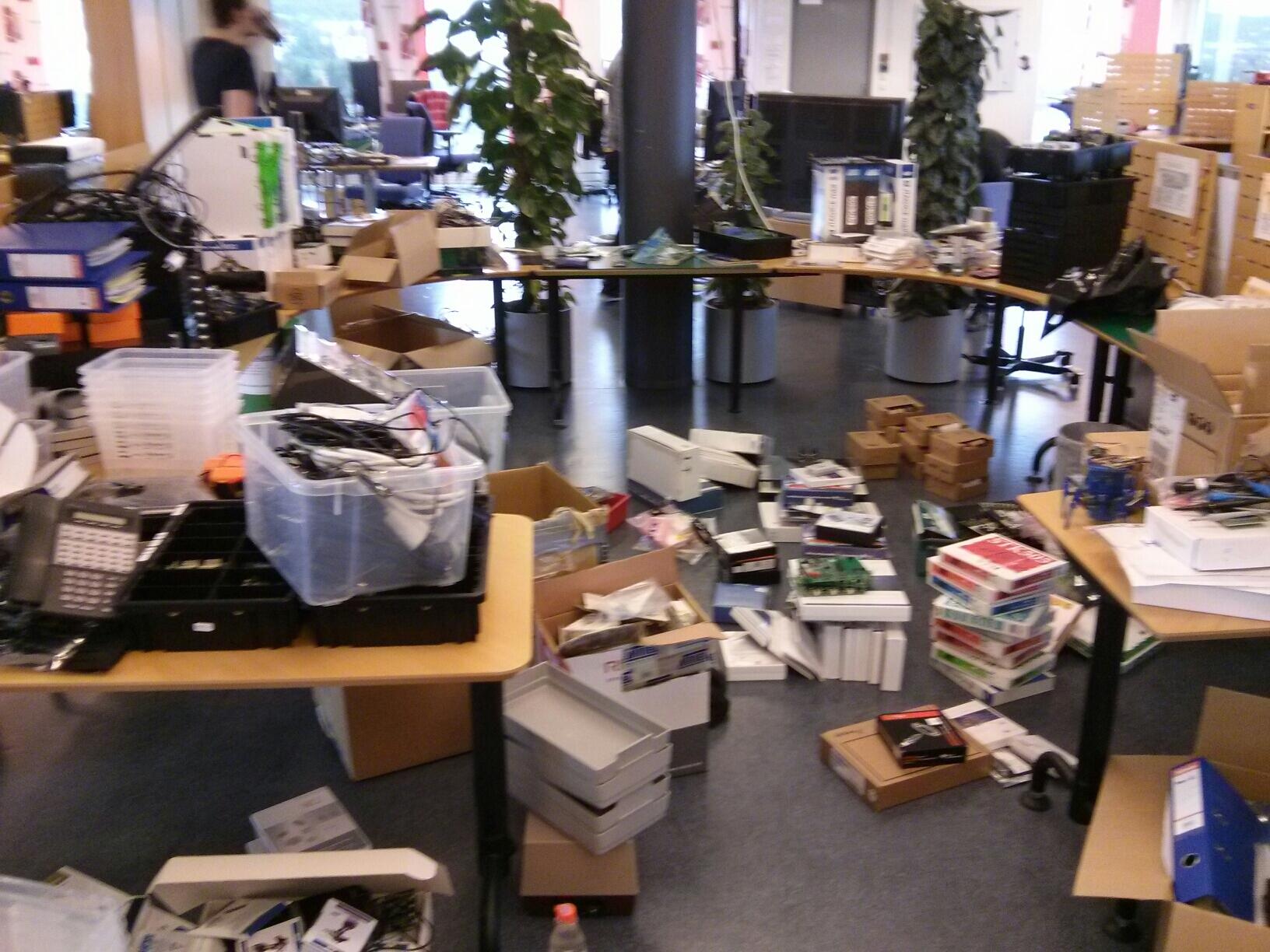 On the upside however I did manage to rescue a ton of still-good kits and tools (some even in their original boxes) from this side of the new millennium: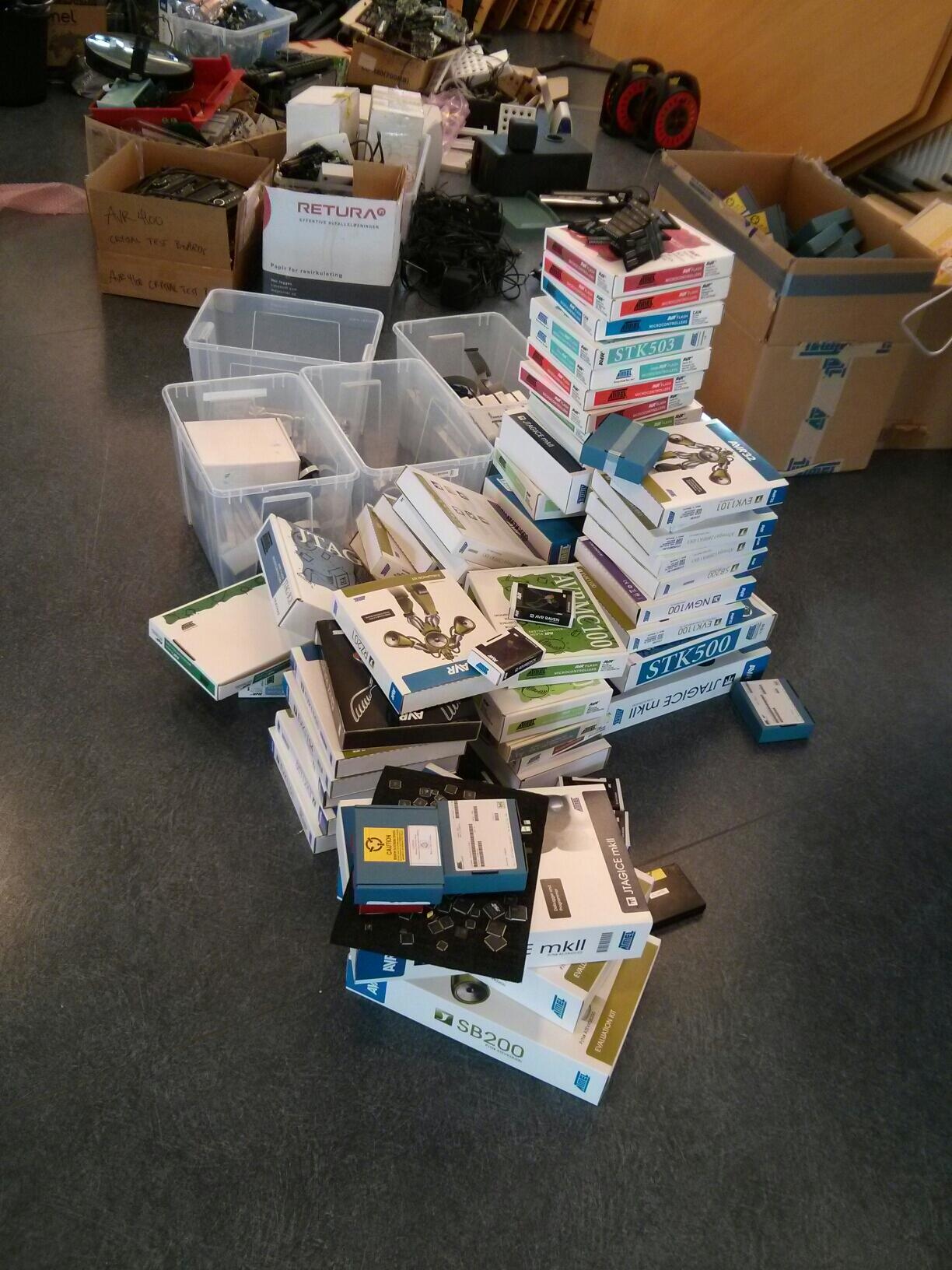 Which are still sitting in a corner awaiting their fate. Once everyone's had a chance to snag what they want/need hopefully they will be released to me for distribution elsewhere. Incidentally, seeing an intact AVR-ONE! probe is kind of like seeing a unicorn; the JTAG header on almost everyone I've seen has been sheared off – including my own personal one. I suppose I should replace it at some point, but my JTAG-ICE3 is faster and more convenient.
Next week I'm off on a customer visit to Germany for a few days, helping out with their new SAM D20 project. With any luck I'll have time to meet up with Thomas (student engineer I met at Atmel previously, who's now working for Atmel in Heilbrun) and find some genuine Bratwurst.